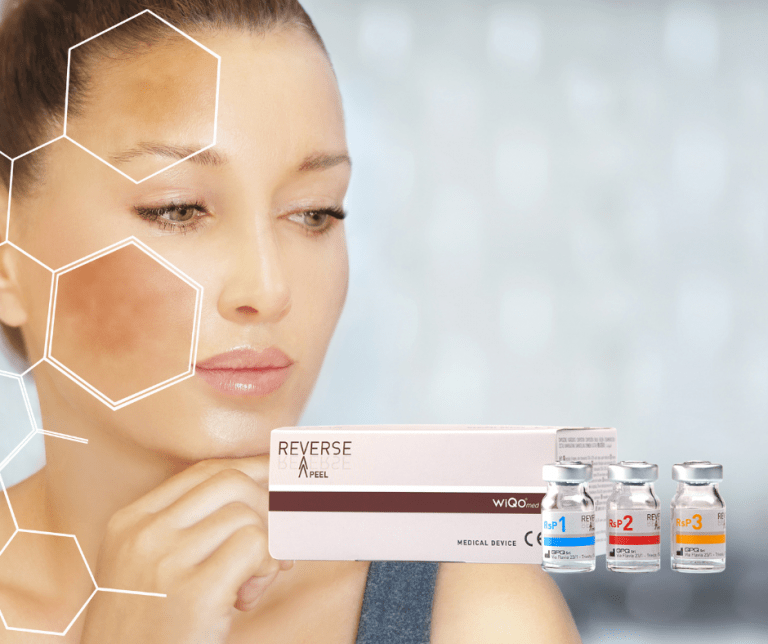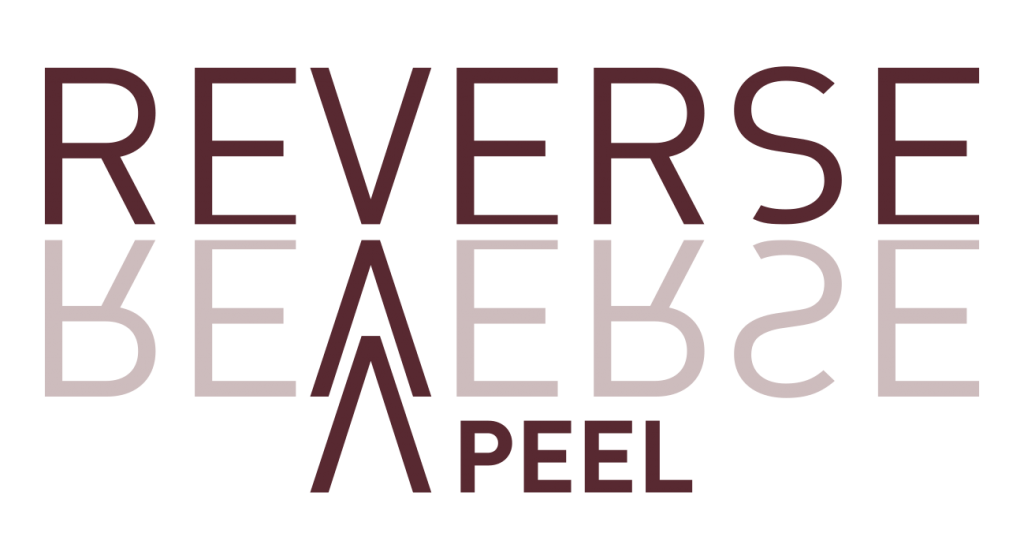 Progressive treatment of reconditioning Melasma and Dermo-Epidermal Hyperpigmentation
RsP1
Its action starts with the melanin oxidation, thanks to the hydrogen peroxide, and continues with
the lightening action of the kojic acid. Both the substances reach the deeper layers of the dermis thanks to the TCA which allows for an easier penetration.
RsP2
A peeling with high-concentration lactic acid and phytic acid with iron-chelating action. The lactic acid reaches the basal layer producing cell vacuolization without destructuring the superficial layers.
RsP3
A peeling made of hydroxy acids (glycolic, mandelic, salicylic) that descale the skin's outer layers and phytic acid with an iron-chelating action.
Neutraliser

It stops the action of hydroxy acid peelings without causing a burning sensation for the patient, thanks to its innovative oil-based formulation with jojoba oil.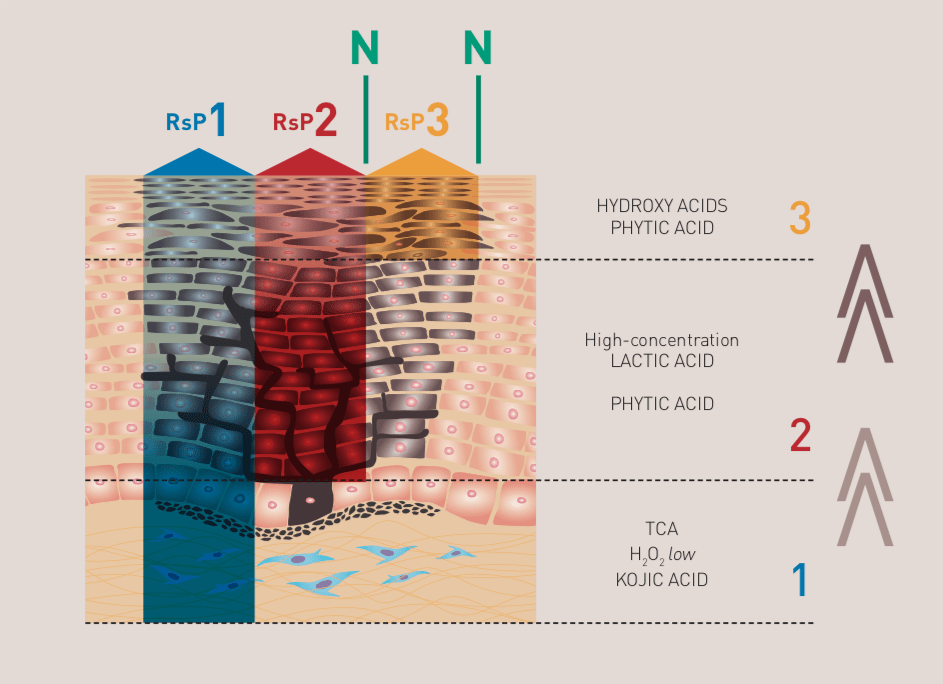 Technical features
Product Type: MEDICAL DEVICE
Packaging: BOX with 5x2ml vials
Reserved for: MEDICAL USE ONLY
Informational material reserved for medical professionals.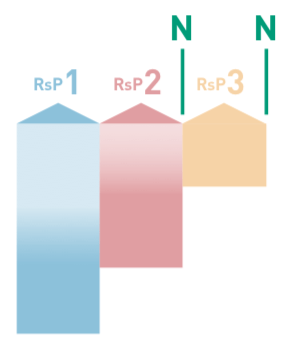 INGREDIENTS:
RSP1
HYDROGEN PEROXIDE, 33% TRICHLOROACETIC ACID (TCA), COGIC ACID, STABILISING AGENTS.
RSP2
LACTIC ACID, PHYTIC ACID, AQUA, SODIUM LACTATE, GLYCERIN, PROPYLENE GLYCOL, XANTHAN GUM.
RSP3
ALCOHOL DENAT., MANDELIC ACID, GLYCOLIC ACID, SALICYLIC ACID, PROPYLENE GLYCOL, CUCUMIS SATIVUS JUICE, ETHOXYDIGLYCOL, HYDROXYETHYLCELLULOSE, PHYTIC ACID, AQUA.
No post-inflammatory pigmentation
Acts on various levels of the skin without causing inflammation
Adjustable to patient tolerability
Can be associated with many other aesthetic medicine treatments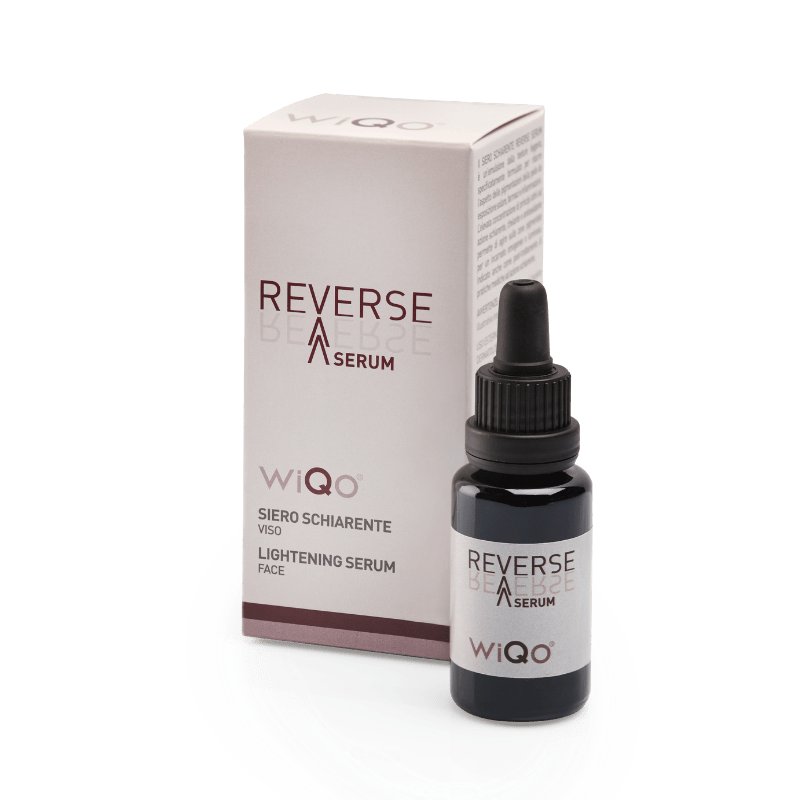 REVERSE SERUM
Lightening serum specifically formulated to oppose and prevent skin hyperpigmentation.
Its silky texture makes it an easy-to-apply and pleasant product. The dropper allows for a quick and accurate application, directly on the pigmented areas. Apply with a delicate massage until it is absorbed.
With a high concentration of active ingredients such as:
Ferulicacid
Lipoicacid
Glabridin
Aminoethylphosphinicacid
Lactoferrin
Niacinamide
Tranexamicacid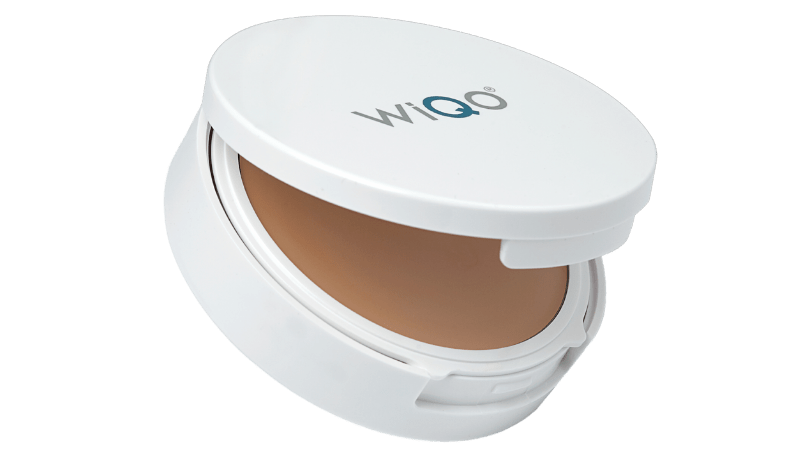 ICP CREAM
When this coloured compact cream is applied in a thin and silky layer, it evens skin tone without highlighting wrinkles. It also camouflages spots, reddening or any other skin imperfections.
Its sun protective factor (SPF 50+) offers a wide-range safe protection from UV rays, as well as from visible sun light, preventing photoaging damages.
It contains Orchid flower Extract and Vitamin E.
When applied, it creates a very thin layer without highlighting wrinkles

Camouflages spots, reddening and other imperfections

Protects from sun light all year round (SPF 50+)

Vitamin E Orchis Mascula Extract
Next Live Online Webinar about PRX
Want to Learn more about Reverse Peel? Ask us!