Restructuring Vitamin Cream
A new cosmetic formulation for home use, containing Hydroxypinacolone Retinoate and Vitamin C to fight the signs of time on the skin.
The WiQo Restructuring Vitamin Cream was tested on human skin models in vitro and on volunteer subjects in vivo, and has shown the following results:
Significant improvement of wrinkles in the skin
Significant reduction of the number of pores and of their overall volume
Remarkableanti-oxidantactivity
HYDROXYPINACOLONE RETINOATE
Cosmetics containing VITAMIN A (retinol) help smooth fine wrinkles by toning the skin, but to be effective they need to contain retinol at a high percentage because it is 20 times less potent than retinoic acid, the atcive metabolite whose use is not allowed in cosmetics in the EU.
The cosmetic industry therefore uses various precursors of retinoic acid (retinoids), such as its esters, which must be metabolised by cells in various steps in order to act on specific receptors.
The WiQo Restructuring Vitamin Cream contains a retinoid called Hydroxypinacolone Retinoate, that acts with efficacy directly on receptors, without the need for being modified. Its effects are comparable to those of retinoic acid, without its irritating effects.
Hydroxypinacolone retinoate, in hydro- and lipo-compatible solvent, is a substance with several advantages:
causes less irritation than the well-known retinol, with higher efficacy
has more anti-aging properties on spots and superficial wrinkles, tested on face and hands and documented through clinical and instrumental evaluations
improves skin texture and smoothness, reduces scaling and leaves the skin more luminous
remains more stable in cosmetic preparations
non comedogenic
VITAMIN C
The other active principle in this product is VITAMIN C (ascorbic acid), which has notorious anti- oxidant, brightening and repairing properties. Its powerful anti-oxidant action is expressed through a scavenger effect (it literally works as a "garbage collector" for oxygen's reactive species) and the regeneration of alpha-tocopherol (vitamin E), based on its oxidised form.
However, vitamin C is unstable, i.e. it tends to oxidise rapidly. In cosmetics, this often results in a change of colour, an indication of its degradation.
In the WiQo Restructuring Vitamin Cream, the ascorbic acid in high concentration (18.8%) is not available in a water-based solution, but in anhydrous suspension that prevents its oxidation and therefore ensures its stability.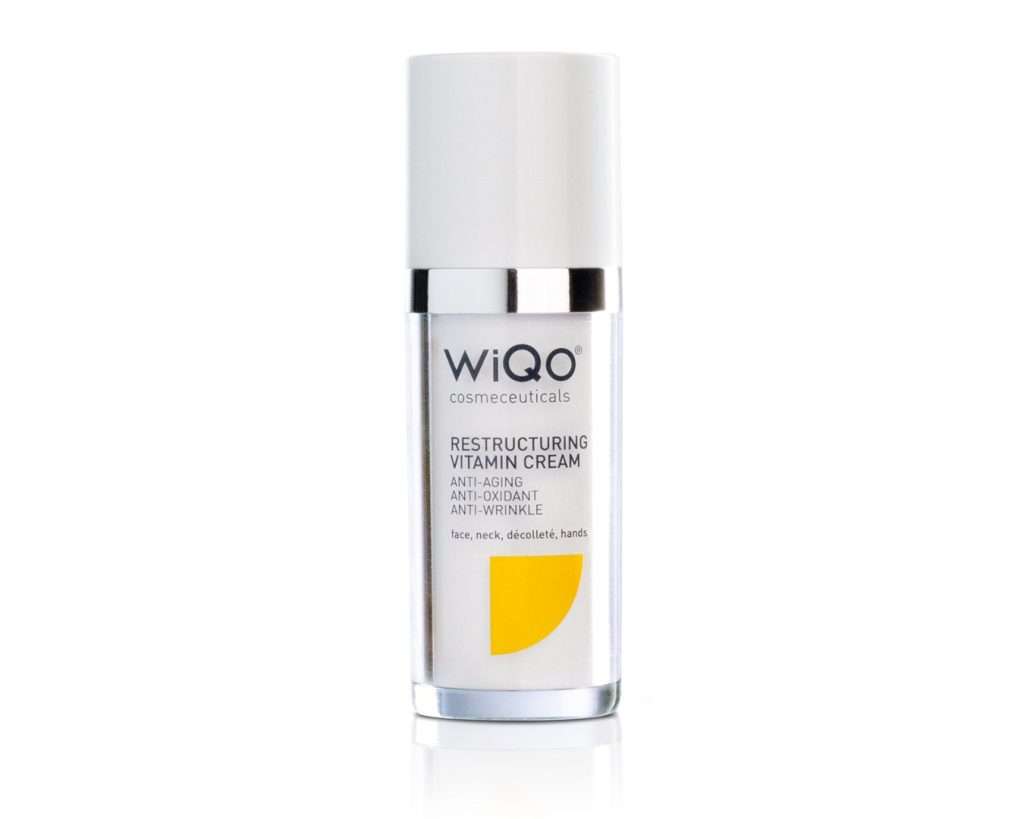 The WiQo Restructuring Vitamin Cream must be applied once a day on the face, neck, décolleté and hands, on its own or in an association with other home use products of the WiQo line.
Use for three months, discontinue for three months and then resume the cycle
Go deeper
Watch the
Webinar